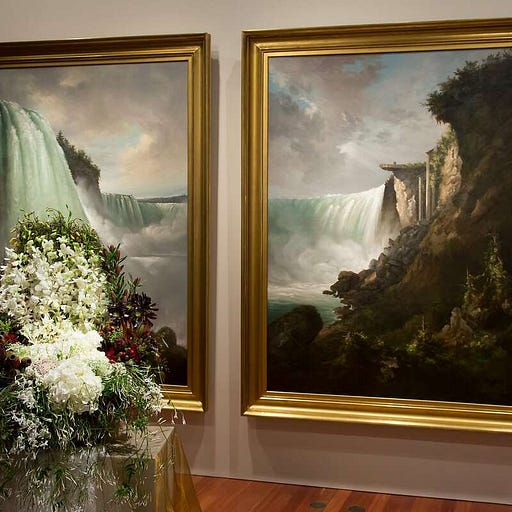 Jun 6, 2022 • 9M
Thoughts in Between Ed and Tech #9: A Transformational View 🔬🔭
Zoom In, Build; Zoom Out; Build; Reflect; Repeat
This is where I share my thoughts on stuff related to Unautomatability in the 21st century. I'm currently reading my Unautomatablogs (https://www.unautomatable.ai/blog) in my own voice. I'm a huge fan of audiobooks, and nothing is better than hearing them from the author!
One of the interesting aspects of cohort-based courses (or any course, for that matter), is that you can analyze course performance on many levels. The right level of analysis depends on many factors, including what fires you are going to let burn, exactly what part of the course you're aiming at improving, and perhaps most importantly, where your biggest opportunities for improvement and growth are.
One problem and one step at a time are how big problems and long journeys are conquered.
This week, I was super fortunate to be able to take part in our first Demo Day and Graduation Ceremony in my new role. It was amazing to facilitate wins for students like Neha and Arno, among others. The primary benefit, as far as I can tell, of weeks like this is they force you to step back and take a look at the big picture. The transformational learning journeys that we take students on over the course of months are really put in focus on Demo Day.
In my first 90 days, I've been zooming in, and building, and zooming out, and building some more; across courses and cohorts. This week, though, I was able to find a beautifully happy medium by zooming in on one very specific course, and looking across the entire 16-week transformational learning journey.
For me, this was a game-changing moment. Lightbulbs have been flashing brightly ever since our celebration together.
And, in case I haven't yet made it clear from the post, I love doing this stuff. Celebrating real transformations with students is what teaching is all about.
The Transformational Learning Journey
As I've been harping on recently, it's all about the journey. This is never more true than if you look at a cohort-based course in its totality. It makes for one epic user story map.
Learning journeys are often guided by a single question: what is it that students will be able to do after the course that they can't do today? In other words, how will they be able to act in new, transformed ways, exactly?
If you are in the game for the right reasons, at the end of any cohort-based course or learning program, it's time to brutally and honestly assess how well you've done.
A few questions that have been jostling around in my head related to taking an end-to-end view are:
Did the students achieve the individual goals that they set out to achieve? Why or why not?

Are our graduates likely to promote us after they leave? Will this cohort produce a net increase or decrease in our word-of-mouth virality amongst our alumni network?

How can we improve the narrative arc and weekly content of the class to better support the transformations that learners are aiming at?

How can we make it even easier for students with the right prerequisites to come in and build an amazing large project, one small piece and one week at a time?

How can we more quickly ramp up learners into an industry-standard tool stack, while minimizing the debugging overhead on our instructional staff?

Are we supporting learners at multiple levels well (e.g., beginner vs. advanced, career transition A or B)?

What can we learn from drops and withdrawals? If they did occur, then where in the curriculum could we have done a better job stewarding learners to avoid similar situations in the future?

How effective are we at leveraging Demo Day as the unique opportunity it is for community building and engagement from our existing community of alumni, both graduates and previous instructors?

Moving forward, what activities do we want to make it easy for recent graduates to participate in?
In essence, how can we assess the forest and its overall health, before we trek into it and start planting or pruning trees?
Optimizing, Via Negativa
Optimizing by removing - or via negativa - is something that I often think about. It's my way of conceptualizing separating the wheat from the chaff; finding the signal within a sea of noise. It's my guiding principle that I can fall back on when chaos reigns.
Admittedly, trying to take in all of the questions above feels chaotic. So, let's put a sharp point on the most important strategic question.
Of all the things that our team could focus on to make upcoming cohorts holistically better, what are the 1 or 2 highest leverage things that we should give significant time and energy to?
As I've been confronted with this question, and as I approach the end of my first 90 days, I've felt compelled to take a few pages out of Gib Biddle's playbook to put together an appropriate top-down product strategy and narrative that aligns with the execution-driven Q2 that our instructional staff has been building bottom-up. It was great to see that we've already accomplished many of the Q2 goals that our team laid out for Product not so long ago. At least, we've proven that we can't reject some of our hypotheses about what it takes to improve quality, self-reported student learning outcomes, and NPS.
Other assumptions about our ability to focus on blitzscaling over short-term profitability - didn't age so well. After all, "capital was free, now it's expensive" according to Sequoia. As Andrew Ng, the AI Fund's Managing General Partner wrote this week in The Batch, "Highly speculative, long-term technology development will have a harder time getting funded" and "There will be more pressure for teams to demonstrate short-term business impact."
What this means to me is that we're back to the age-old entrepreneurial conundrum: how should we balance long-term growth with short-term profitability? And how to do this as we tighten our belts in the recent economic downturn?
Via negativa has led the way for me. Keeping it simple, I came up with two product roadmap themes that help to align our past with our present and future, and with some of the emergent values that our executive team has begun to adopt. Connecting this top-down view to our curated list of bottom-up projects produced that beautifully satisfying sense that things are really coming together.
Re-Balancing
Fresh off the heels of a successful cohort, we're looking at a successful Q2. Heading into Q3 knowing that scope doesn't creep but understanding grows, it's time to balance again. We must balance product marketing and distribution with building, short-term revenue with long-term growth bets, the satisfaction of students with that of instructors, and the early adopter members of our community with the early majority that we must reach.
To accomplish our goals and strike this delicate balance between opposing opposites, while we plan to focus on Delighting our students in Hard-to-copy, Margin-enhancing ways (DHM), I believe that we also need to put their transformational learning journeys front and center, at the crossroads of product, curriculum, content, and even growth.
At least, that's the transformational view for now, somewhere between ed and tech.