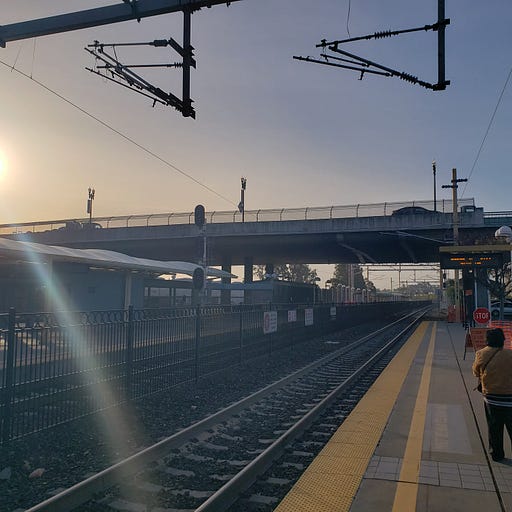 Apr 4, 2022 • 15M
Thoughts in Between Ed and Tech #4: Aiming and Hitting the Target🎯
#Unautomatable consistency wk 13/26
This is where I share my thoughts on stuff related to Unautomatability in the 21st century. I'm currently reading my Unautomatablogs (https://www.unautomatable.ai/blog) in my own voice. I'm a huge fan of audiobooks, and nothing is better than hearing them from the author!
Good ole Millbrae Station.
The trip is a Thursday and Friday morning thing this week because we've got our company offsite to ring in Q2 of 2022. I'm excited too because as I understand it there are a bunch of AI-Fund folks in the office! The coffee machine is even going this week!
Following last week's course launch, the deadlines for strategic thinking and high-level articulation have loomed large over my psyche this week. What is it that we're doing with our courses in Q2, and why? What mission are we on, exactly, and what steps will we be taking to accomplish it?
The deadline this week has driven my action to nail down the answers to these all-important strategic questions.
Without an Aim, There is No System
Execution has a tendency to make me feel productive over the course of a day, but strategic work is my favorite work. While we may earn our pay today with execution, to create a successful business in the medium and long term and get paid tomorrow, a strategic path that has been well thought through is essential.
So what does aiming look like for a Head of Product somewhere between ed and tech?
Aiming means two things: identifying a north star and building a system to get there.
Identifying a North Star
It's hard to identify the North star in the sky. But with patience, intention, and some wise council from your fellow travelers, you can locate it.
However, that's the point at which the journey begins. Every step that you need to take to get where you're going comes after the identification of that guiding light.
Ideas are a dime a dozen and execution is everything, after all.
Rainbows are easy to admire, but the pot of gold with the leprechaun at the end is ever elusive.
In the same way, many identify the right North Star, but not many create a plan and carry it out, over and over, until they get there.
Not many will take 10,000 tries.
The process goes something like this; explore the sky, focus on the North Star, and create a plan to get there. During the creation of a plan, restart the cycle. Explore possible ways to get there, focus on just one, and create more forward movement.
First, we aim, then, we build a system to achieve the aim. Without an aim, there is no system.
Notice that in both cases, exploration leads to focus, which leads to creation. This is the #unautomatable way, after all.
In my first month on the job, I've worked closely with leadership to understand where the North Star is. From there I've been leveraging the best frameworks I know of to consider all of the possible ways to get there and to start creating forward movement.
The good news heading into this week was that what I'd deemed worthy of my energy within my first 30, 60, and 90 days served as the baseline for my thinking about the direction of Product in Q2.
We'll consider the two frameworks that I've been using now, both of which I've slightly adapted to my own devices. The first is a set of Product Table Stakes, and the second is the Course Creation Flywheel.
Product (or Cohort-Based Course) Table Stakes
The following list has been adapted from Marty Cagan's book Inspired for educational cohort-based courses, and keeping with the original theme there are three categories that we'll consider: Product, Process, and People.
Each category is made up of a set of primary dimensions and a focusing question or set of focusing questions.
Let's jump in.
The First Dimension: Product
User & Customer Knowledge: Who are we focusing on if customers are students but users are students and instructors?

Data Knowledge: How are courses actually used by users & customers? What do our student and instructor feedback forms and interviews tell us?

Product Operational Knowledge: Do we know how to operate each aspect of our current suite of cohort-based courses for prospective, new, and current students?

Product Marketing Knowledge: Do we understand how leads are acquired and move through the funnel of admission, enrollment, and graduation?

Community Building Knowledge: What does community mean in our business, and how can we develop feedback loops that leverage alumni as well as current and prospective students and instructors (e.g., teaching and learning loops)?

Industry & Domain Knowledge: What is our industry & domain, exactly, and who are our competitors and why? Amidst boot camps, marketplaces, platforms, and other future verticals, where do we fit in? Within paradigms of data science, programming, machine learning, deep learning, artificial intelligence, and others, where do we fit in?

Company Knowledge: Does Product work well with the rest of the business (e.g., Marketing, Business Development, Operations, and Career Services)?
The Second Dimension: Process
Discovery Techniques: Can we use qualitative and quantitative techniques to identify outcomes worth aiming at, and then build systems to achieve those outcomes collaboratively, while understanding and addressing any risks in our courses upfront?

Optimization: Once the course is live, do we know how to rapidly improve its quality throughout each cohort, and from cohort to cohort?

Delivery: Can we launch, sustain, and close out courses with energy and enthusiasm? Is Product fulfilling its responsibilities to Marketing, Business Development, Operations, and Career Services?

Course Development Process: Do we understand the process of continuous course improvement and are we successfully managing administrative responsibilities for courses taught by contractors?
The Third Dimension:
People
Team Collaboration: How effectively do we lead and manage the instructional staff? Is there a culture of mutual trust and respect?

Stakeholder Collaboration: How good are we at collaborating with external stakeholders? Do external stakeholders trust us?

Evangelism: Are we able to share course vision and strategy in a way that motivates the instructional staff and stakeholders?

Leadership: Are we effective at communicating, motivating, and providing feedback?
The Course Creation Flywheel
Last year, I took part in the On Deck Course Creator Fellowship. It was awesome, and I learned a lot.
From when I started to when I finished the cohort, I felt that I had come a long way across the 20 dimensions that we were self-reporting at the beginning and end of the fellowship. These twenty dimensions make up the Course Creation Flywheel.
The flywheel is divided into five key pillars. The big idea is that if you can monetize your course, build the learning architecture, develop the student experience, engage peer-to-peer learning, and scale, then you can use transformational learning journeys to build a transformational business.
Here again, we'll go through each dimension and focusing question one by one.
Let's do it.
The First Pillar: Monetize
Business Model: Can we identify problems worth solving, test our hypotheses, validate the needs, and choose the right course formats and strategies for the business?

Marketing & Launch: Can we attract, engage and convert our audience, and create hype for sales events and launches through quality copywriting in emails and landing pages?

Partnerships / Affiliates: Can we build a network of partners around our content, courses, and business, including influencers, affiliates, joint ventures, and brand deals?

Social Proof: Can we document the transformations being delivered and share them with prospective students?
The Second Pillar: Learning Architecture
Teacher's Mindset: Can we inspire trust in our instructional staff and motivate students to learn from them?

Curriculum Structure: Can we structure ideas into learning journeys that include multiple tracks and success paths for learners of different levels?

Content Development: Can we create content that captures attention, introduces relevant concepts, shows how concepts relate to one other, and recommends next actions to students?

Presentation Performance: Can our instructional staff lead classes with presence and poise to deliver a performance that inspires students to learn from them?
The Third Pillar: Student Experience
Learning Design: Can we make our Curriculum Structure correspond to true transformational learning journeys, starting with what our students want, and delivering each of them the transformation they need?

Student Admissions: Can we craft our Ideal Student Profile and develop criteria for selecting students that will make our community stronger, including providing scholarships or sponsorships for those in financial need?

Communication: Can we clearly communicate with students so they know what is expected of them, and where to find what they need?

Progress Tracking: Can we track engagement levels and learning progress of students and provide ways for them to track their own, including assignments, onboarding, and offboarding surveys?
The Fourth Pillar: Peer-to-Peer Learning
Community Setup: Can we structure our community on the appropriate platform in a way that optimizes peer-to-peer learning?

Community Management: Can we define a culture and core values for our community in a way that fosters genuine relationships among students that are adding value to each other?

Accountability: Can we develop accountability mechanisms for students to take ownership of their own learning so that they don't rely on our instructional staff?

Deliberate Practice: Can we give our students ways to develop tight feedback loops to accelerate learning by doing, peer-to-peer feedback, and reflection?
The Fifth Pillar: Scale
Course Operations: Can we manage the technology, systems, and processes for our courses, including payments, student success, programming, scheduling, student relationship management, learning management, and automation and integration between tools?

Mentor Programs: Can we create a peer supporter or alumni mentor program, including identifying, attracting, and training mentors; and running effective mentor sessions?

Membership: Can we provide ongoing value to students in a way that turns them into lifelong learners ready for the membership programs that we will offer?

Team: Can we affordably scale our business by focusing on key areas of the course workflow?
Building a System to Get There
As you can see, betwixt the Product Table Stakes and Course Creation Flywheel frameworks, there are many dimensions along which we might build systems in Q2. Thirty-five, to be precise.
As an aside, there are naturally areas of overlap within these two frameworks. It remains to be seen how I will integrate them in my own unique #unautomatable way. That's important strategic work for another day.
For now, given time and energy constraints, what I tried to do for the company offsite was to take the two lenses and ask "which of these dimensions should be an integral part of my short-term Product plan?"
Remember, without a focus, you cannot create.
Hitting the Target, or Making the Plan
I'm happy to report that within a few hours of sitting at Millbrae station on Thursday, I facilitated a discussion about our product vision. It went well. Of course I didn't present thirty-five dimensions of potentiality, but I did refine the signal that I sensed that I was getting through the noise.
Over the subsequent day and a half, I listened intently to everyone else on the team.
By Friday afternoon, we had all identified the most important business objectives, key results, and corresponding initiatives and projects that we each had on our roadmaps, including any dependencies that required time from other team members.
I sought some wise council from my fellow travelers, and they from me, and we all felt better about our journey together as a result. Collaboration was a key to our Q2 planning success.
I expect that it will continue to be for our small but mighty team in the coming weeks, months, and beyond.
So for now, I'm moving my focus toward translating my new high-level plan into a set of actionable and executable tasks for the quarter. The nested explore-focus-create loops continue, all the way from the product vision down to the backlog.
As I continue to aim, I continue to build systems.
My learning and growing continue to feel like meaningful engagement with the world.
I couldn't ask for more.
Oh, and it turned out that there were folks in the office on Friday afternoon. Landing.AI had their offsite this week too, which included their CEO, Andrew Ng, who joined us for a photo op before we all parted ways, each of us somewhere between ed and tech.